Pacific Grove High School
Class Of 1973
Welcome to the official Web site for the Pacific Grove High School Class of 1973!
Happy 65th Birthday, Everyone!
Please set aside the weekend of Oct. 2-4, 2020, for a reunion of our class and of the Pacific Grove High School Alumni Association. This weekend is also the annual Butterfly Parade.
We will have a get-together at Beth's house in Pacific Grove Friday evening, October 2, and the PGHSAA reunion dinner will be held Saturday, October 3, at the Elks Lodge in Monterey. The Friday event is free and open to everyone; registration for the Saturday evening event will open soon, and a reservation form will be posted on this site. This year, you don't have to be a member of the PGHSAA to attend the dinner, but we hope you'll join!
We look forward to seeing you at both events; please send a note to Beth by clicking on "Contact Us" at left if you have any questions.
Go Breakers!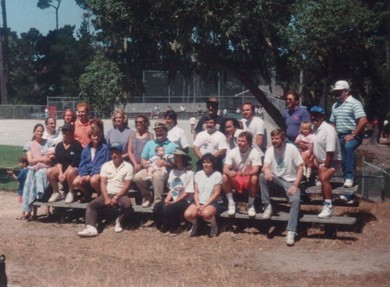 1993 Group Shot at George Washington Park (20th Reunion)
Join the Pacific Grove High School Alumni Association!
Go to https://www.pghsaa.org for an application form.
Links to other PGHS class web sites:
Class of 1971: www.pghsclassof71.com
Class of 1972: Visit their Facebook page!
Class of 1974: www.pacificgrove74.com
If you know of any other classes with active sites, let Beth know so that they can be posted here.