Pacific Grove High School
Class Of 1973
Welcome to the official Web site for the Pacific Grove High School Class of 1973!
Stay Tuned for Reunion News
Although the recent stay-at-home order has been lifted, Monterey County is still in the state's "Widespread" category of counties on its COVID-19 watchlist as of February, and the County of Monterey's website is showing no update to its 2020 "social gathering" rules. So, we are not sure we will be able to hold a yearly reunion in October 2021, but if the vaccine becomes more widely available and numbers start to drop, that may change. Watch this page for news. Stay safe and well!
Go Breakers!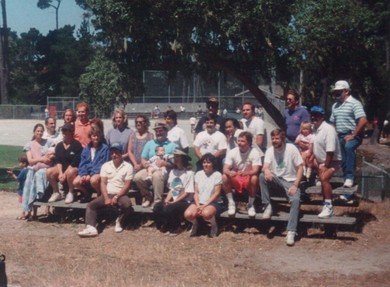 1993 Group Shot at George Washington Park (20th Reunion)
Join the Pacific Grove High School Alumni Association!
Go to https://www.pghsaa.org for an application form.
Links to other PGHS class web sites:
Class of 1971: www.pghsclassof71.com
Class of 1972: Visit their Facebook page!
Class of 1974: www.pacificgrove74.com
If you know of any other classes with active sites, let Beth know so that they can be posted here.