Pacific Grove High School
Class Of 1973
Welcome to the official Web site for the Pacific Grove High School Class of 1973!
50th Reunion Photos Have Been Posted!
We had a wonderful time at the 50th reunion of the PGHS Class of 1973! Photos have been posted to our website (click on "Photos" at the left of the page and then on "50th Reunion"). If you have more photos of the 50th reunion, let Beth know by clicking "Contact Us" at left, and she will tell you how to send them to her for inclusion in the "Photos" gallery.
A big "THANK YOU" to everyone who attended and contributed to our 50th reunion events: the Friday evening party, the Butterfly Parade, and the PGHSAA dinner at the Elks Club. We had perfect weather and a big crowd. It was a weekend to remember.
Remember that we hold yearly reunions! If you missed the fun this year, you don't have to wait another five years. Our next reunion is planned for

October 4th and 5th, 2024

. Be sure your e-mail address is current on this site to receive an invitation and reminders. See you then!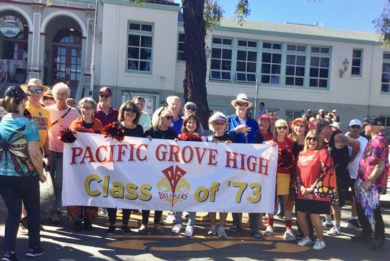 Join the Pacific Grove High School Alumni Association!
Go to https://www.pghsaa.org to pay dues online. $25.00 per year includes a subscription to The Knockout II, which is issued three times a year, in December, April, and August, and contains news of what's going on in P.G., in addition to memories, photos, and events.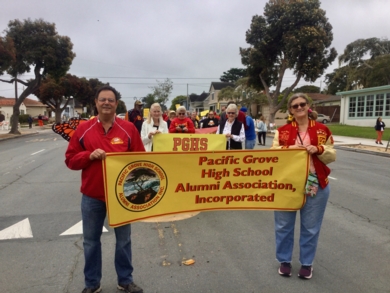 2022 Butterfly Parade. Behind the Alumni Association banner were individual classes from 1960 to 1973.
Links to other PGHS class web sites:
Class of 1971: www.pghsclassof71.com
Class of 1972: Visit their Facebook page!
Class of 1974: www.pacificgrove74.com
If you know of any other classes with active sites, let Beth know so that they can be posted here.