Pacific Grove High School
Class Of 1973
Welcome to the official Web site for the Pacific Grove High School Class of 1973!
Set Aside the First Saturday in October!
As of the end of May, Monterey County is in the Orange Tier, which means people who have been vaccinated or tested can gather indoors. And, it looks as if this ranking wil hold through the fall or go even lower, to the Yellow Tier. For this reason, we have revived our plans to have a yearly get-together on Saturday, October 2, at Beth's home. This will be an evening affair--somewhere between a "wine-and-cheese" and a light dinner. Please plan to be there!
Unfortunately, the Pacific Grove High School Alumni Association has decided to cancel its reunion dinner again this year because the reservation and planning work had to take place too early in the year for anyone to be sure what would happen. That dinner will return, at the Elks Club in Monterey, on the first Saturday of October, 2022. Meanwhile, our party planning is much simpler, so we are going ahead!
Details about our October 2 party will be posted here. Spread the word! We look forward to seeing all of you who are tired of being cooped up during the pandemic.
The first weekend of October is also what is now called "Butterfly Days" in Pacific Grove, and word is that the Butterly Parade will return, in addition to other events. Save that weekend in 2022 and 2023, also; 2023 will be our 50th reunion!
Go Breakers!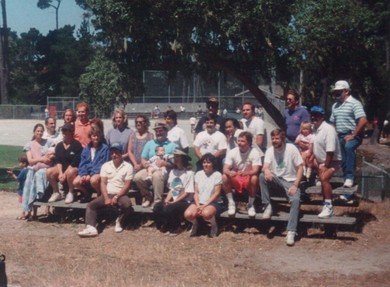 1993 Group Shot at George Washington Park (20th Reunion)
Join the Pacific Grove High School Alumni Association!
Go to https://www.pghsaa.org for an application form.
Links to other PGHS class web sites:
Class of 1971: www.pghsclassof71.com
Class of 1972: Visit their Facebook page!
Class of 1974: www.pacificgrove74.com
If you know of any other classes with active sites, let Beth know so that they can be posted here.