Pacific Grove High School
Class Of 1973
Welcome to the official Web site for the Pacific Grove High School Class of 1973!
Mark your calendars now for the first weekend of October, 2023, which will be our 50th reunion! We plan again to have a Friday-evening get-together and then dinner at the PGHSAA annual all-school reunion on Saturday. Both events were very well attended this year, so we look forward to seeing people next year! Stay tuned for more news.
Join the Pacific Grove High School Alumni Association!
Go to https://www.pghsaa.org to pay dues online. $25.00 per year includes a subscription to The Knockout II, which is issued every quarter and contains news of Alumni Association events.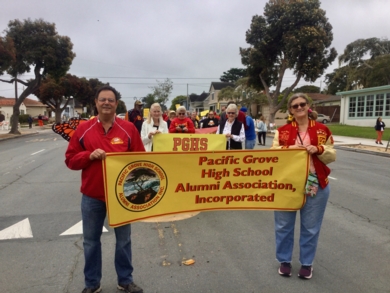 2022 Butterfly Parade
Links to other PGHS class web sites:
Class of 1971: www.pghsclassof71.com
Class of 1972: Visit their Facebook page!
Class of 1974: www.pacificgrove74.com
If you know of any other classes with active sites, let Beth know so that they can be posted here.