Pacific Grove High School
Class Of 1973
Welcome to the official Web site for the Pacific Grove High School Class of 1973!
Class of 1973 Yearly Reunion Get-Together
Saturday, October 2, 2021
Please mark your calendars for Saturday, October 2, at 6:00 p.m., for a wine-and-cheese get-together at the home of Beth Penney, 514 Park Street in Pacific Grove. No charge; everyone is welcome. Spread the word to folks in other graduating classes, also. We hope to see as many of your as possible.
The Pacific Grove High School Alumni Association has decided to cancel its reunion dinner again this year because the reservation and planning work had to take place too early in the year for anyone to be sure what would happen. That dinner will return, at the Elks Club in Monterey, on the first Saturday of October, 2022. Meanwhile, our party planning is much simpler, so we are going ahead!
The first weekend of October is also what is now called "Butterfly Days" in Pacific Grove, and word is that that event and the Butterly Parade will return in 2021. Save that weekend in 2022 and 2023, also; 2023 will be our 50th reunion!
Let me know if you have any questions. E-mail is the best way to reach me: bpenney@sonic.net, or use the. message center on the site.
Go Breakers!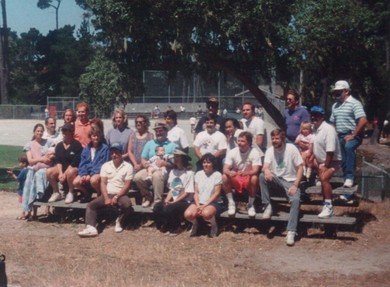 1993 Group Shot at George Washington Park (20th Reunion)
Join the Pacific Grove High School Alumni Association!
Go to https://www.pghsaa.org for an application form.
Links to other PGHS class web sites:
Class of 1971: www.pghsclassof71.com
Class of 1972: Visit their Facebook page!
Class of 1974: www.pacificgrove74.com
If you know of any other classes with active sites, let Beth know so that they can be posted here.